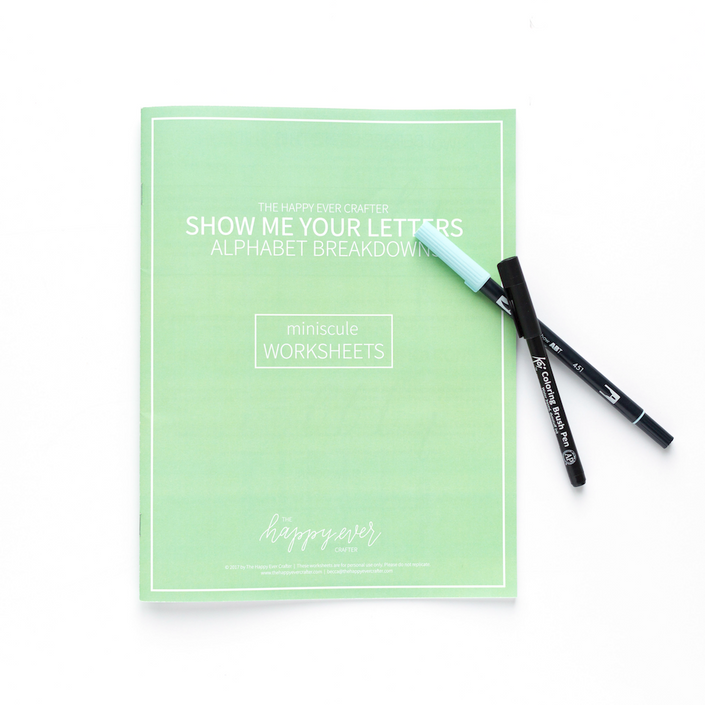 Minuscule Letters (Small Pens)
Learn Modern Calligraphy with The Happy Ever Crafter
***IMPORTANT: IF YOU'RE SEEING THIS PAGE AFTER ALREADY PURCHASING THE COURSE... HIT THE "LOG IN" OR "SIGN UP" BUTTON IN THE MENU ABOVE. YOU DO NOT NEED TO PURCHASE AGAIN***


You've finished your drills, learned the basic strokes, and you're ready to DO something with your new skills!
The Minuscules Workbook & Online Course will walk you through, step-by-step, how to write the entire lowercase alphabet in pretty, modern calligraphy.
By the end, you'll be a pro at properly writing your lowercase letters in calligraphy—NOT just fancy cursive writing.
We run through this course as a group throughout November, but you can join this self-paced course at anytime and go at your own pace.
This is a DIGITAL product including downloadable PDF materials and virtual trainings—no shipping is required. Choose the pen size that you'll be using so that you purchase the correct workbook! Need help with pens? Scroll down to the FAQ below.
I've helped over 50,000 students in my basics course, Show Me Your Drills, that teaches the basic strokes behind modern calligraphy. This workbook builds upon those skills to confidently start writing letters, words, and, ultimately, creating your own unique calligraphy style!
When you purchase this workbook & course, you'll receive:
Access to Show Me Your Drills, my basic calligraphy strokes program, where you'll find suggestions on supplies, tips on correctly using your pens, advice for lefties, and more!
A 38-page downloadable PDF workbook with a step-by-step breakdown of every letter in the lowercase alphabet
Access to the Minuscules video training including a full overview of the basic strokes, some modifications, and some new strokes
Traceable sections and freehand sections, so you can learn without fear!
Blank worksheets for practice (and more practice, and more practice, and more practice)
A private community to share your work for feedback and extra accountability
BONUS! The exclusive Minuscule Alphabet Cheat Sheet, so you can easily reference every letter at once
BONUS! Over 60 minutes of additional video demonstrations during the semester!
Your Instructor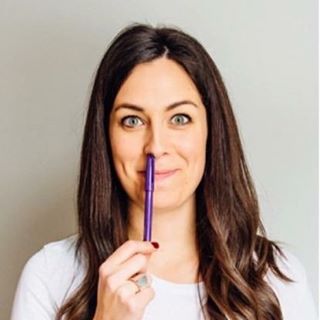 Hey, I'm Becca. I'm a modern calligraphy do-er and teacher from Ottawa, Ontario- and I'm here to teach you everything I know! Hit me with your favourite Dad joke, and we'll be best friends.
Course Curriculum
Minuscules (Small Pens)
Available in days
days after you enroll
Bonus Worksheets
Available in days
days after you enroll
Extra Help Videos
Available in days
days after you enroll
Frequently Asked Questions
Which version of the workbook do I need?
There are three formats of this workbook available— one for small pens, one for big pens, and one for iPads. The only difference is the size of the traceable sections— slightly smaller for pens with small tips, and slightly larger for pens with big tips. You'll want to purchase the workbook that fits the pen size you'll be using. Examples of "small" pens: Tombow Fudenosuke, Pentel Fude Touch, & similar Examples of "big" pens: Tombow Dual Tips, Koi Coloring Brushes, Pentel Aquash, & similar
Which size pen should I use?
The choice is entirely yours— many people use both!
Are refunds available?
With your purchase, you will receive INSTANT access to your downloadable files and trainings. Due to the digital nature of this product, refunds are not available. If you'd like a sample of what the workbook and trainings look like, you can join the free Show Me Your Drills program to get a taste! :)
What's the live semester all about?
When you purchase this workbook & course, you'll be among a big group of other pen-friends (yes, I made this up) who are going to do it at the same time! You'll get access to a private Facebook community. Each day, we work through one letter of the alphabet together. You can share your work in our daily prompts and get instant feedback and tips for improvement! Throughout the semester, there are also additional video demonstrations through Facebook Live. If you can't join us live, don't worry! The replay videos will be available to you, even if you don't use Facebook.
I missed the live semester. Can I still join?
Yes, of course! The best part is, even if you join after the semester ends, you still get access to the community and the replay videos from our extra training lessons.